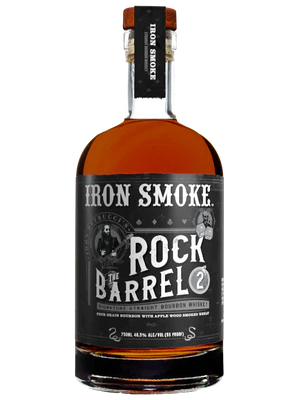 Iron Smoke Rock The Barrel 2
Rock the Barrel 2 joins Iron Smoke's collection of award-winning bourbon whiskeys. In 2018, Iron Smoke was rated a 95.5 in Jim Murray's Whiskey Bible and in 2019 was listed in Forbes Magazine as one of the "10 Best Bourbons Beyond Kentucky."
The contents of this bottle, handpicked by John from the thousands of barrels aging at our farm distillery in Fairport, NY, are like his music – all killer, no filler. Pure and unfiltered, this cask strength, 93 proof bourbon whiskey bridges strength and smoothness with a whisper of apple wood smoke sweetness.
"Drawing from our experience while creating the original RTB 120-proof limited run, Iron Smoke master distiller Drew Wescott has once again made one of the most amazing bourbons I have ever tasted, this time sitting at 93 proof making it the perfect whiskey for any occasion," notes Petrucci.
Each 750ml bottle, hand-signed by Petrucci, comes with a custom label and a tamper seal. Every order will receive a set of bamboo coasters emblazoned with the RTB 2 logo. In addition, every order will come with an invitation to join Tommy Brunett, CEO and Founder of Iron Smoke Distillery, and John Petrucci, in an exclusive virtual tasting session.
Limit four (4) bottles per customer. 
Shipping
No, due to legalities, we only can ship within the United States. We can ship to 41 states, EXCEPT for: Alabama, Alaska, Arkansas, Hawaii, Delaware, Kentucky, Mississippi, Rhode Island, and Utah.
It depends on where you are. Orders processed here will take 5-7 business days to arrive. We only offer standard $10 delivery in order to keep you costs as low as possible
Iron Smoke Distillery partners with one of our top retail accounts in Florida to ship packages nationwide. Due to high volume of orders, it allows Iron Smoke to focus on making whiskey!
With alcohol, we HAVE to make sure you're 21 or older. While we ask you if you're 21 when you visit our site, that isn't a form of ID. FedEx will ID you upon arrival of your package!
You need to be 21 years or older to purchase alcohol. At a PO BOX, you can't sign for your package! Home addresses only. If you've put a PO BOX in your order and it hasn't shipped, please reach out to us ASAP to get it corrected via our contact page.
FedEx attempts to deliver your package 3 times before it returns it to us. If you're noticing that FedEx has sent your product back to Florida, please reach out to us ASAP.
Order Tracking
Please check your email around the time you ordered, you should have gotten an email! If you can't find it, you can contact us through our contact page! We will be happy to assist you.
Please check your spam folder! Sometimes, your email client puts them in there by default. If you're struggling to find it still, please reach out to us at support@ironsmokedistillery.com.
Product Returns
it's illegal for consumers to ship alcohol without a proper license. As such, we cannot take returns at this time.
Ordering Merchandise
Since Iron Smoke Distillery uses a fulfilment partner for alcohol, our merchandise is not on site with them. We sell merch through our online store, located at merch.ironsmokedistillery.com, which can be ordered seperate, direct from our distillery.
Visit merch.ironsmokedistillery.com to order Iron Smoke Distillery swag! The order will be seperate from any alcohol order due to it shipping from seperate locations.