Founded in 2011
How It All Started
Iron Smoke was founded back in 2011, in the backyard over some whiskey and a loaded smoker when our founder and chief trailblazer – musician Tommy Brunett, came up with the concept of combining two great American past times: great bourbon/whiskey making with an added subtle hint of Applewood BBQ's smoked goodness.
For the true whiskey and cigar enthusiast! Comes with a bottle of our Iron Smoke Casket Strength Bourbon, an Iron Smoke Whiskey Infused Torpedo Cigar, and one of our signature Iron Smoke Mechanics Rags.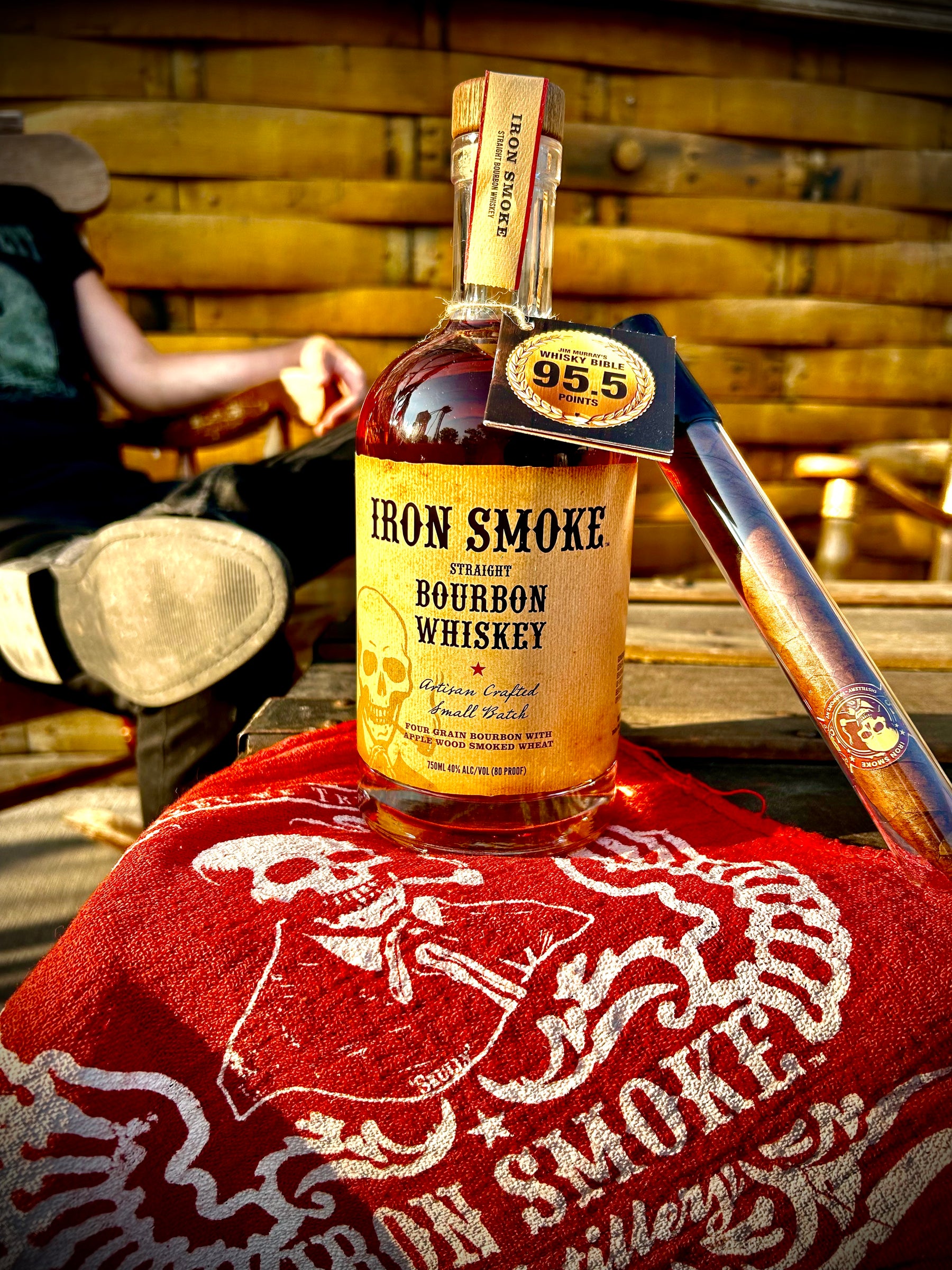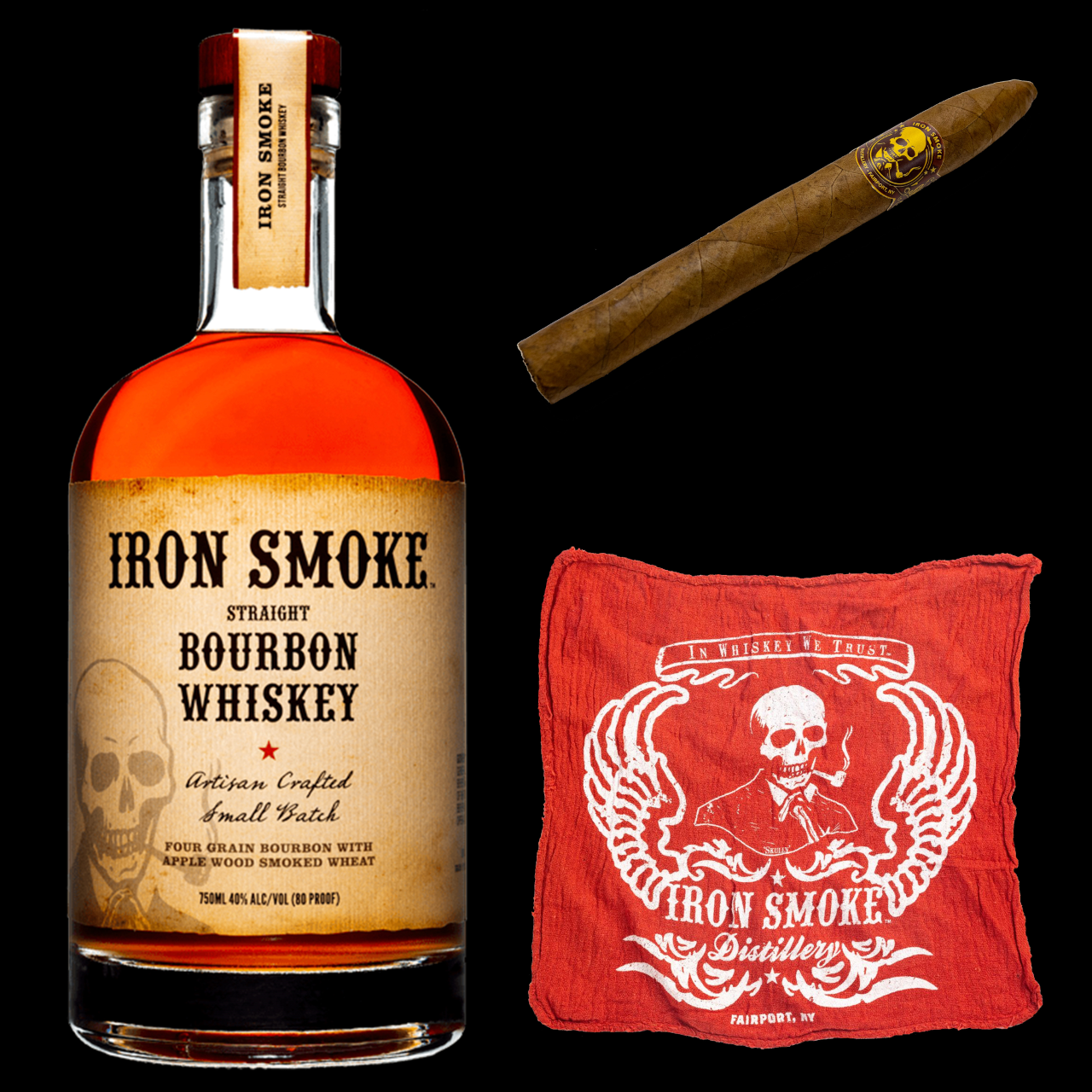 Includes:
- Iron Smoke 80pf 750ml
- Hand Rolled Dominican, Honduran and Nicaraguan tobaccos infused with Iron Smoke Bourbon encased in a glass tube sealed in hand dipped black wax.
- Branded Mechanics Rag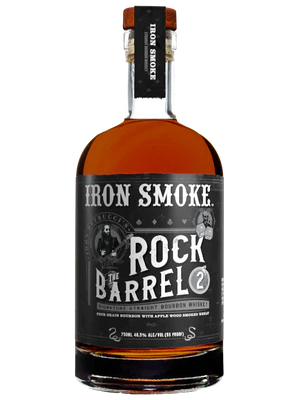 Rock the Barrel 2 joins Iron Smoke's collection of award-winning bourbon whiskeys. In 2018, Iron Smoke was rated a 95.5 in Jim Murray's Whiskey Bible and in 2019 was listed in Forbes Magazine as one of the "10 Best Bourbons Beyond Kentucky."
The contents of this bottle, handpicked by John from the thousands of barrels aging at our farm distillery in Fairport, NY, are like his music – all killer, no filler. Pure and unfiltered, this cask strength, 93 proof bourbon whiskey bridges strength and smoothness with a whisper of apple wood smoke sweetness.
"Drawing from our experience while creating the original RTB 120-proof limited run, Iron Smoke master distiller Drew Wescott has once again made one of the most amazing bourbons I have ever tasted, this time sitting at 93 proof making it the perfect whiskey for any occasion," notes Petrucci.
Each 750ml bottle, hand-signed by Petrucci, comes with a custom label and a tamper seal. Every order will receive a set of bamboo coasters emblazoned with the RTB 2 logo. In addition, every order will come with an invitation to join Tommy Brunett, CEO and Founder of Iron Smoke Distillery, and John Petrucci, in an exclusive virtual tasting session.
Limit four (4) bottles per customer.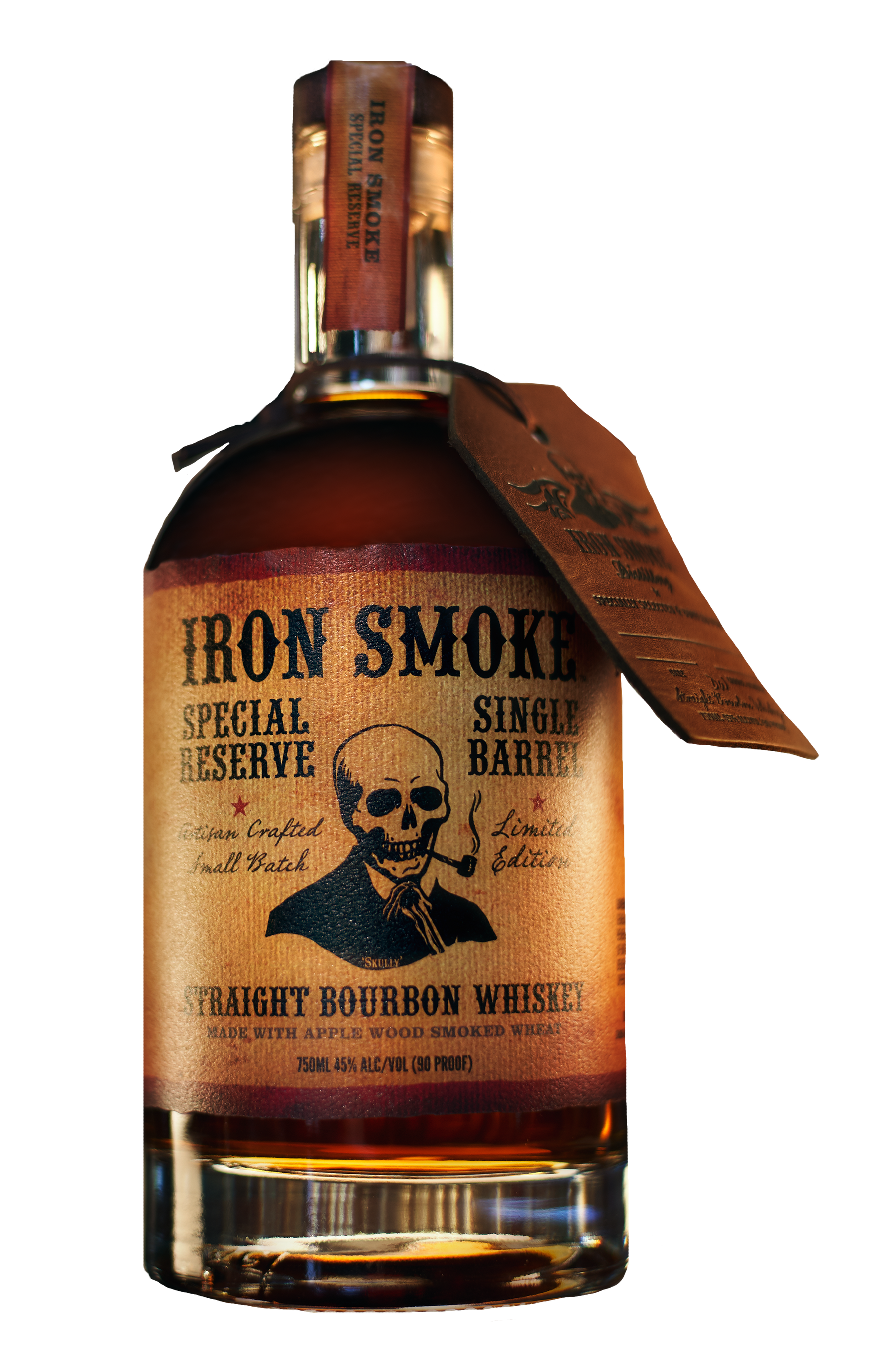 Extremely Limited Spring and Fall Release!
Each barrel is handpicked by the accounts from our Master Distiller's top picks from his favorite and superior bourbons aging in our rick house.
Bottles are delivered to the account which includes a fancy hand signed collectable leather neck tag with the barrel number, date and accounts name .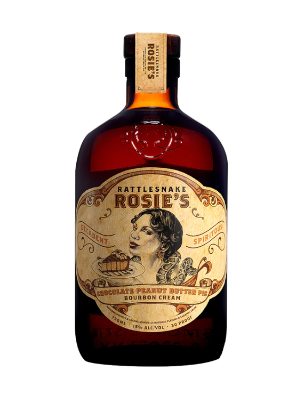 Rattlesnake Rosie's all natural handcrafted original recipe created around an old fashioned classic confection.

Treat your lapper to the rich and velvety natural goodness of our dessert-inspired "Decadent Spiritous" blend. 
Heavenly chocolate and creamy peanut butter with the perfect blend of hand crafted bourbon whiskey and the sweet goodness of the freshest Upstate NY dairy farm cream we could find.
Shelf stable for up to a year and no refrigeration necessary so you can keep it right on the ol' bar. 
Serve straight up, chilled, or on the rocks!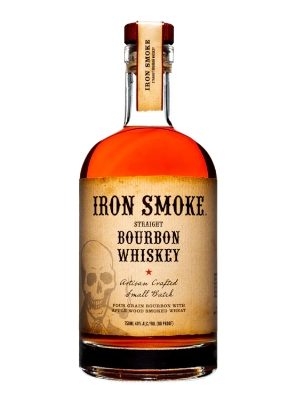 Produced at Iron Smoke Distillery in Fairport, NY, Iron Smoke Straight Bourbon Whiskey contains a four-grain mash bill distilled in small batches using locally sourced fresh grains from familyowned farms in the Finger Lakes region. This New York State bourbon contains smooth notes of butterscotch, vanilla, and caramel with a whisper of applewood smoke on the finish. In 2018, Iron Smoke was rated a 95.5 in Jim Murray's Whiskey Bible and in 2019, was listed in Forbes Magazine as one of the "10 Best Bourbons Beyond Kentucky."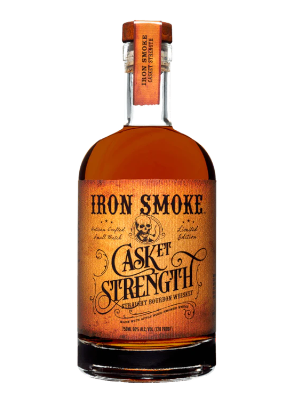 Uncut / Barrel Strength and unfiltered at 120 proof. Produced at Iron Smoke Distillery in Fairport, NY, Iron Smoke CASKet Strength Straight Bourbon Whiskey is handpicked from thousands of triple char virgin white oak bourbon barrels. As with all Iron Smoke products, CASKet Strength contains no liquid filler from any other distillery and is sold directly from barrel to bottle. CASKET Strength contains notes of butterscotch, vanilla, and caramel.


Made with Iron Smoke Distillery's very own handcrafted corn whiskey in Fairport, NY, Rattlesnake Rosie's Apple Pie Whiskey (750ml) is all-natural and made with fresh Upstate, NY, locally sourced apple cider, cinnamon, pure Madagascar vanilla, and brown sugar. In 2018, Rattlesnake Rosie's Apple Pie took home double gold in the North American Bourbon and Whiskey Competition.



Made using Iron Smoke Distillery's proprietary four-grain bourbon mash bill recipe, Rattlesnake Rosie's Maple Bacon Whiskey (750ml) is artisan handcrafted with New York State Pure Grade A Maple Syrup and has notes of good ol' American natural smoked bacon flavor. Rattlesnake Rosie's Maple Bacon is all-natural with no coloring, no animal products or additives and is aged in virgin American white oak barrels. In 2020, Maple Bacon took home the bacon for "Best Flavored Whiskey" in the Finger Lakes International Wine Competition.